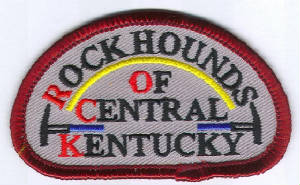 Lexington ROCK Club
4101 Tates Creek Centre Dr
Suite 150-195
Lexington KY 40517
OUR CLUB
Informal group with similar interests in rock-related hobbies.

Sharing of ideas within the group

Provide varied activities to encourage the expansion of knowledge and interest in the rock hobby

Meetings 3rd Thursday at 7:00 P.M. Meadowthorpe Community Center 333 Larch Lane, Lexington KY 40511

Field Trips Saturday prior to regular monthly club meeting

Membership annual dues are $20 for family membership & $15 for single membership payable on or before January 1st each year; make checks payable to R.O.C.K. & submit to club Treasurer.

Directions to the monthly club meetings at the Meadowthorpe Community Center
from New Cricle Road, Rt 4

Exit 7 Leestown Road towards Lexington

turn left onto Boiling Springs Drive

turn right onto Meadowthorpe Ave

turn left onto Larch Lane
Meadowthorpe Community Center is at the end of Larch Lane
follow this link back to our ROCK club home page to download our Membership Application Form.
Rockhounds of Central Kentucky
24th Annual Rock, Gem, Mineral, Jewelry Show & Sale
CANCELLED DUE TO NATIONAL GUARD ARMORY LAST MINUTE UNAVAILABILITY.